Immersive language and learning experiences…
While school trips abroad can seem like a tick-box exercise for some, there are teachers who realise the importance and value an educational tour can bring to young learners. They are not the only ones to acknowledge this as Travelbound have teamed up with team E3 Trails to provide students with active learning experiences to complement their learning trip to France.



What are E3 Trails?
Learning in school wants to be imaginative and innovative but there can be barriers that can make this difficult. E3 Trails are designed to conquer this by maximising the learning opportunities for students outside the classroom.
Across the broad range of the E3 Trails designed for Travelbound school groups, the language specific trails available at various locations across France allow students to engage in structured language-based learning experience. Developing not only listening, reading and speaking but key skills, E3 Trails utilise notable sites at your chosen location to create a series of challenges.
Catering to the learners' needs
One size doesn't fit all when it comes to learning which is why Travelbound have teamed up with E3 Trails to create a unique set of tasks designed to support schools and their learning journeys. Whether your students are in the early stages of developing their linguistic skills or are developing comprehension and pronunciation, language-focused E3 Trails allow for students to enjoy inclusive team-based activities in your chosen French region.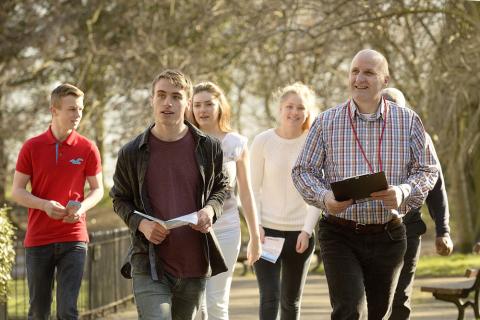 Capturing the imagination of your students and instilling a new motivation to engage in learning, spy-themed and investigative adventures allow students to gather information from the challenges. Using their French language skills while interacting with significant sites, students will be communicating closely with one another to piece together information and dissect clues to reveal hidden mysteries or uncover hidden caches.
The grand finale to your E3 Trail can differ depending on your location. What remains consistent are the numerous opportunities for students to actively engage in learning that can further support work within the classroom. Whether you are seeking to integrate the E3 Trail as part of a wider class-based speaking or writing project, Travelbound can incorporate an E3 Trail around the needs of your learners.
---
---