Music & Concert Tour To Belgium
Come and play in the churches, medieval market squares and coastal bandstands of this fascinating small country.
Highlights
01
Historic pianos at the Musical Instruments Museum
02
Tasting pralines at an artisan chocolate factory
03
Wildlife and rides at Bellewarde theme park
04
Day out in historic Bruges
Price
Typically
£255
Price per student
Based on a 4 day, 3 night tour for 40 students
Music Performance-Belgium-Music
The itinerary was well thought out and appropriate for our group and our wishes.
Newlands Girls School
Suggested itinerary
Depart school for Belgium by coach
Evening meal
Breakfast
Concert in the Church of Our Lady
Evening meal
Take your students bowling
Breakfast
Visit the seaside resort of Ostend, followed by performance on Ostend Bandstand
Visit the In Flanders Fields Museum
Evening meal
Performance as part of the Last Post Ceremony at 8pm
Breakfast
Coach travel to the UK
Arrive in the UK - Welcome back!
What's included*
Travel by full-specification coach
Organisation of two performances
Coach use in resort subject to driver's hours
Half-board youth hostel accommodation
*Excursion fees may not be included in this tour – please contact us to learn more.
Recommended Excursions
With landscaped gardens and an ancient castle, Belgium's oldest theme park is home to wildlife from big cats to capybaras, as well as thrilling rides such as the Screaming Eagle vertical drop tower. Water rides include the Niagara, which careers down the highest waterfall in Europe.
Tip: The Boomerang roller coaster travels at over 80km per hour.
Full day
See on map
02
Musical Instruments Museum, Brussels
This beautifully restored art nouveau and neoclassical complex is home to a renowned collection of over 7,000 instruments from grand pianos to glass harmonicas. These are looked after by a staff of specialist scientists called 'organologists'. There is also a concert hall and a space for workshops.
Tip: There is a fine view of the city from the rooftop restaurant.
1 hour
See on map
03
In Flanders Fields Museum
This outstanding museum aims to preserve our connection with World War I through character-led experience and the story of the land. Exhibitions blend interactive installations with relics allowing students to explore history on a peer-related level. A permanent exhibit traces the invasion of Belgium with educational programmes to delve deeper into the war past.
1 - 2 hours
See on map
Typical accommodation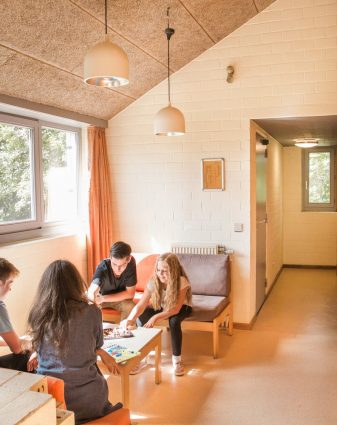 Europa Hostel, Bruges
See on map
Why groups like it:
Only a 15-minute walk from the train station and conveniently located for exploring
Consists of a main building and two wings where groups are largely self-contained
Several common rooms, including a dedicated TV room
Facilities:
Big-screen TV and PlayStation
TV and internet access
Luggage storage/lockers available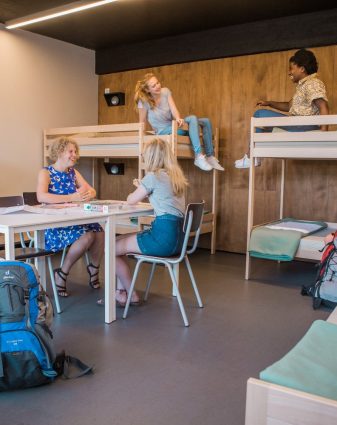 Hostel de Draecke, Ghent
See on map
Why groups like it:
Located in a quiet street in the centre of Ghent, just 150m from the Castle of the Counts
High standard of hostel accommodation with private bathroom facilities
There's a common room where students can get together
Facilities:
Internet access, free Wi-Fi
TV Room
Luggage storage facilities