Cross-Curricular School Trip To The Bay Of Naples
This stunning Italian region is also an educational treasure trove filled with key landmarks and excursions that will cover a wide range of curriculum objectives and get students learning outside of their normal environment!
Highlights
01
Take a breathtaking trip along the Amalfi drive
02
The preserved Roman city of Pompeii
03
Walk up Mount Vesuvius an active volcano
04
Learn how to make pizza in the region it was invented
Price
Typically
£448
Price per student
Based on a 3 night tour for 30 students, travelling March 2019
Schools - Sorrento, Performing Arts
Both Alicia and Laura were not only helpful but the service they provided exceeded all our expectations. Wonderful team and I would recommend them to every, even the most demanding client.
Knightsbridge School
Suggested itinerary
Flight to Italy (flight time 2 1/2 to 3 hours)
Coach transfer to your accommodation
Evening meal
Breakfast and packed lunch
Visit the ruined Roman city of Pompeii
Walk up Mount Vesuvius
Evening meal
Breakfast and packed lunch
Coach trip along the spectacular Amalfi Drive
Pizza making
Tarantella show. Evening pizza meal
Breakfast and packed lunch
Flight times permitting travel to the airport via the Phlegrean fields. Connect with your return flight to the UK
What's included*
Return flights UK to Italy
Return airport coach transfer to your hotel
1 teacher place for every 10 students
Assistance of a local representative
24/7 emergency support on tour
Recommended excursions
When Mount Vesuvius erupted in 79AD, the city of Herculaneum was engulfed in an avalanche of mud that preserved the buildings and streets. The excavated city today can be explored on foot, giving students a fine example of Roman lifestyles and architecture.
Tip: Herculaneum is a lot less busy than the more famous Pompeii.
Half day
See on map
Probably the most famous archaeological site in Italy, Pompeii is located just 25km away from Naples. Life in this rich and prosperous city was dramatically and brusquely interrupted in 79AD when Vesuvius erupted and totally buried it. A visit to the excavations gives students a pretty good idea of what life must have been like here two thousand years ago.
Full day or half day
See on map
A hike up to the crater of this famous active volcano provides splendid views and a fresh perspective on the landscape. The whole Vesuvian area was turned into a national park in 1995. Your group can discuss the disastrous eruption of 79AD, which destroyed Pompeii, Herculaneum and Stabiae.
Half day
See on map
The nine-mile caldera of Solfatara volcano sits five miles to the west of Naples. Solfatara is a dormant volcano but it still emits jets of steam and sulphurous gas through various fumaroles around its crater floor. Dramatic uplift and subsidence within the caldera has occurred since Roman times. This visit is currently closed.
2 hours
See on map
A ferry trip from Sorrento to the Island of Capri gives students a great opportunity to observe the geography of the coastline from a different perspective. The island is famed for its lemon groves, natural beauty and expensive boutiques. Highlights include the Villa San Michelle and the cable car ride to the summit of the island.
Full day
See on map
The Amalfi coastline is listed as a UNESCO world heritage site, with rugged cliff tops adorned with lemon groves, vineyards and winding roads that cut through picturesque villages and small towns such as Ravello, Amalfi and Furore. This is a magnificent setting with views of the sea and fine examples of architecture, geography and historical monuments.
Full day
See on map
Descend 40m below the streets of Naples into a subterranean world of quarries and tunnels dating back 2,400 years. The caverns and passageways not only provided building stone for the city but have also been used as an aqueduct and cisterns, Roman access passageways and most recently provided shelter during WWII. The visit also includes the ruins of a Greco-Roman theatre where the Emperor Nero once performed.
Half day
See on map
Sorrento has grown from a small fishing village to one of the largest tourist destinations along the Amalfi Coast. Winding stone stairways lead to piazzas that are filled with the sound of traditional Italian. Enjoy stunning sea views, pick up souvenirs and watch the world go by.
Half day
See on map
9
Pizza Making Class, Bay of Naples
Now famous throughout the world pizza is said to have originated in Naples. Students get hands-on learning how to make pizza dough at a local cookery school. After watching the pizzaiolo make and cook pizzas in a wood-fired oven with their chosen toppings the group will enjoy a pizza dinner at the school. The dinner can be combined with a Tarantella Show of traditional regional dancing.
2.5 hours
See on map
10
Ice Cream Factory, Sorrento
During the lesson the Gelataio will explain what techniques and ingredients are used to make good ice cream, including local products typical to the region. Students can assist with the preparation of the raw materials, the freezing process and ultimately tasting the freshly produced ice cream. At the end of the demonstration, each guest will get to taste the ice cream an everyone gets a certificate.
1 hour
See on map
11
Italian Language Lessons
The best place to learn Italian is in Italy and we can arrange language lessons at a local language school with a native speaker.  This gives students a chance to work on grammar, vocabulary and pronunciation and to discuss cultural and social aspects of Italian life with the teacher. Afterwards, students can use what they have learned in a real context.
2 - 3 hours
See on map
12
Virtual Reality Experience at Pompeii
Enhance your students experience at Pompeii and see the ancient city in a new and exciting way. At key points of interest put on your Virtual Reality headset and travel back 2,000 years in time. The streets, temples, theatres, markets, shops and houses come to life before your eyes in 3D and in 360°. The visit will be accompanied by tour assistants to help with the equipment. It is also possible to add a qualified guide.
2 hours
13
The Travelbound Naples Quest
One of Italy's most charming cities, Naples is stepped in rich history and iconic sights. Students are encouraged to work in teams to collect keys and be in with a chance of unlocking the winning box. Iconic places included in the quest are Castel Nuovo, Galleria Umberto and Fontana della Immacolatella. An enjoyable mix of treasure hunt-style clue solving and team activities keep students engaged until the very end. Enrichment or MFL version available.
2-2.5 hours
See on map
14
The Travelbound Sorrento Quest
A self-guided walk takes students on a discovery of the wonders of the popular seaside resort. The quest, punctuated with a wide range of head-scratching tasks and challenges, takes in many fascinating sights Porta de Serrans, Plaza de la Virgen and Mercado Central. An enjoyable mix of treasure hunt-style clue solving and team activities keep students engaged until the very end. Enrichment or MFL version available.
2 hours
See on map
Typical accommodation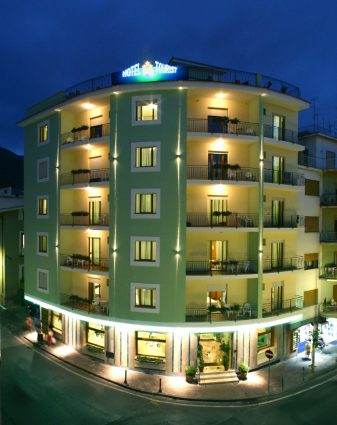 Hotel Tourist ★★★
See on map
Why groups like it:
Near the old town centre, station and tourist port
Easy access to the Island of Capri, Pompeii and Herculaneum
Friendly and helpful staff
Facilities:
Swimming pool (seasonal opening)
Private bathrooms
Air conditioning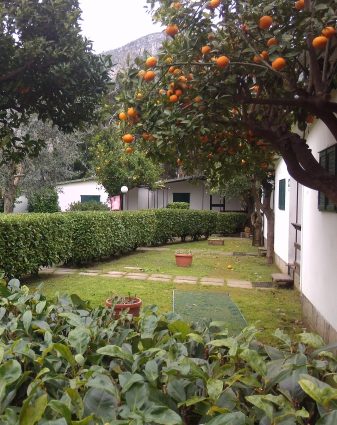 Villaggio Turistico Costa Alta
See on map
Why groups like it:
The beach and in the city centre can be reached by public transport
Students are accommodated in excellent bungalows in a holiday village
Perfectly located a short distance from Pompeii and Herculaneum by train
Facilities:
Swimming pool (seasonal opening)
Free breakfast
Private bathrooms
Learning outcomes
Subject focus
Students can:
Experience learning outside the classroom in another country – the language, history, art, geography, food and culture
Practise speaking a foreign language
Learn about archaeology, excavations and Roman history
Understand more about volcanic hazards, plate tectonics
Experience Mediterranean agricultural methods and lifestyle
Build confidence and learn to value the skills and techniques needed for personal and team success
Discover, explore and have fun with fellow students and teachers
Evaluate the effects of tourism on the local community and landscape
Student outcomes
Students will have had an opportunity to:
Visit a foreign country and experienced another language and culture
Gain independence and self-confidence
Strengthen existing friendships and make new friends
Understand personal organisation, co-operating and working with others in a variety of environments
Gain knowledge and experience connected to many subjects through learning outside the classroom.