Working in partnership with the Girls' Day School Trust (GDST), Travelbound is the chosen provider of educational experiences to inspiring destinations around the world.
With you every step of the way, the Travelbound School Trips team are made up of educational travel specialists ready to tailor an engaging learning experience for your students.
Know where you want to visit or seeking some inspiration? Whether you are looking for a cross-curricular experience in Normandy or a performing arts tour to New York, we have a range of destinations to match your desired learning outcomes.
"Extremely well organised trip bespoke to your requirements. Nothing was too much trouble."
Nottingham Girls High School (GDST), Drama trip to New York
Gain approval for your GDST school trip
Health & Safety: All trips are built around a stringent Safety Management System independently audited by an external service.
Financial protection: As a part of the Experience Education sector under the Travelopia group, Travelbound provides the financial security expected of our ATOL and ATBA protected school trips.
Price: The Travelbound School Trips team works closely with you to create a bespoke educational experience that matches learning outcomes, standards and budget. Travelbound School Trips can guarantee to price match and beat any like-for-like quote and an additional 5% discount exclusive to GDST schools.
Dedicated Account Manager: You will work with one Account Manager to build your unique travel experience to provide your students with more from their time at school.
Your booking, your trip: We operate a straightforward booking process with step by step guidance from enquiring to returning from your student tour.
24-hour support: GDST schools receive 24-hour support whilst away on tour.
Exclusive access: GDST benefit from access to Travelbound's exclusive French Château in the heart of Normandy, SkiBound's ClubHotels in the French Alps and UK activity centres run by our sister company JCA Adventure.
Inspection visits: Party Leaders booking their Travelbound School Trips have the added benefit of inspection visits prior to your school's departure.
Optional extras: Travelbound can source a range of extras for your student tour, including hoodies personalised with your school's name.
Once you are happy with your personalised Travelbound itinerary, you need to gain approval from your headteacher and, in some cases, your Local Education Authority. Using an online tool like EVOLVE supports you in the management of your school trip with procedures, including risk assessments streamlined and paperwork minimised.
Steps to utilise EVOLVE
The key elements to include on your EVOLVE general information form will include:
Name of the Party Leader
Number of children
Name of your educational tour provider (Travelbound)
Learning objectives
Names and addresses of all students attending the trip
Copies of the trip letters sent to parents
Copies of risk assessments used to evaluate all areas of the school trip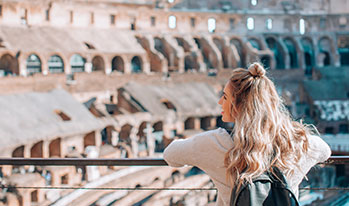 Contact your GDST Travelbound representative today
Melanie Krolick
Sales Manager, Travelbound School Trips
T: 01273 265 247
Alternatively, leave us a message via
our Contact Us page