Christmas Markets For School Groups In Freiburg, Germany
Located in the very heart of Freiburg's beautiful old historical quarter, the Freiburg Christmas Market consists of around 114 festive stalls.
Highlights
01
Traditional arts and crafts from the Black Forest region
04
Europe's second largest theme park, Europa Park
Price
Typically
£311
Price per student
Based on a 5 day, 4 night tour for 40 students, travelling December 2022
Schools - Amsterdam - Generic
Trip was wonderful overall, the students are all scoring it 8/9/10 out of 10 which is very positive
Cramlington Learning Village
What's included*
Travel by full-specification coach
Coach use in resort subject to driver's hours
Full-board hotel accommodation
24/7 emergency assistance on tour
Recommended excursions
The university city of Freiburg is Germany's southernmost city enjoying a warm and sunny climate. It's a chance to experience typical German life with bustling market squares, traditional coffeehouses and busy networks of small canals. At its heart is the 500 year old Cathedral with the tower providing fantastic views across the city. Freiburg is also one of the world's leading green eco cities.
Half day
See on map
02
Strasbourg (Christmas)
This is one of the oldest markets in France and regional specialities, crafts and gifts are available in abundance. Strasbourg is full of medieval charm with a magnificent cathedral, half-timbered houses and canals. The city is also the seat of the Council of Europe, the European Parliament and The Court of Human Rights.
See on map
03
Europa-Park Christmas Markets
Germany's largest theme park is a magical winter wonderland with thousands of decorated fir trees, festive illuminations plus hundreds of attractions and fascinating shows for all ages. Thrill at high-speed roller coasters, gaze at fascinating acrobatic international shows, become immersed in the underwater world or stroll through a traditional German Christmas Market.
See on map
×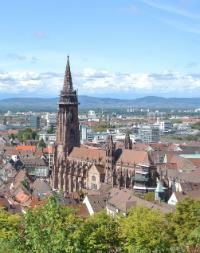 ×
×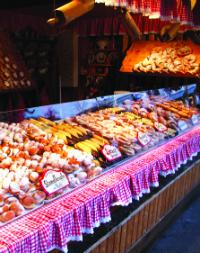 Typical accommodation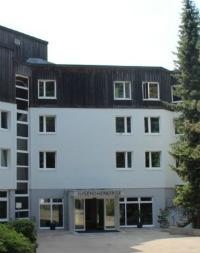 Youth Hostel Freiburg
See on map
Why groups like it:
located in the eastern part of the city on the edge of a forest nature reserve
specialises in providing accommodation for student groups
all rooms except 4 with private facilities
Facilities:
Students generally 4 to a room
Restaurant and musickeller
Meeting rooms available
Learning outcomes
Subject focus
Students can:
Take language practice beyond the classroom, engaging in spontaneous, unscripted conversations with native speakers
Develop students' confidence and fluency in a foreign language by speaking it in practical situations
Experience another culture
Develop students' interest and enthusiasm for another country and its language
Discover, explore and have fun with fellow students and teachers
Student outcomes
Students will have had an opportunity to:
Develop speaking and listening skills through talking to native speakers in everyday situations
Gain confidence by stretching their vocabulary
Learn about German culture and the German people
Strengthen existing friendships and make new friends