In July 2014, it was down to me and 4 other staff members to ensure our 43 students had the learning experience we all hoped for from our music tour to Ostende, Belgium. It was the first music tour run by my school in over 20 years and a new experience for me having used a different tour company at my previous school. Luckily for me, the life raft soon turned into a cruise liner with the support of Travelbound navigating us through our travel plans.
A world of possibilities
Ticking boxes for our governors, seeing smiles on the faces of our students, and knowing you have just led a music tour that enhances the development of each individual is hugely satisfying. It's not a challenge you want to (or should) tackle alone. As I reflect on our trip to Ostende, the flashbacks of the wonderful success in glorious weather and the enjoyment of the students reminds me why we scraped our plans of running a trip biennially and instead look to take our students away year after year.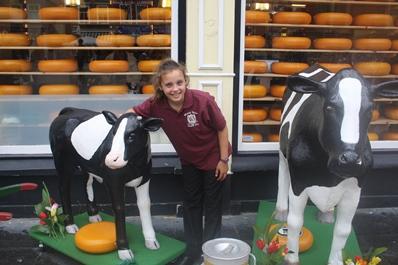 Taking the initial steps to planning our 2015 trip I first considered how I would want our group to travel. Reluctant to take 40+ girls on a long coach journey and conscious of the cost of flying, the team investigated alternative potential destinations. The location we settled on, and one I had never previously heard of, was Noordwijk, Netherlands. Travelbound arranged a busy itinerary for 60 girls to experience a 5 day/4 night tour complete with activities to explore the many sights this little known destination has to offer.
Here is my little guide for future tour leaders running a trip to Noordwijk.
Accommodation
Aan Zee Hotel, NoordwijkWe stayed at this excellent hotel on a half-board basis. The staff were very accommodating and flexible with regards to meal times and allowing us to book facilities and space in the evening despite the fact they had two other school parties staying with them. The hotel is just a 2 minute walk from the beach and a local parade of shops offers easy entertainment options.The food provided was of an excellent standard with each evening meal consisting of three courses with plenty of food to go around. Dietary requirements were well catered for and checked each day. The rooms were of a high standard with powerful showers and a good Wi-Fi connection available for free (a real must for young people nowadays). All staff and pupils spoke very highly about the accommodation and I would certainly recommend this hotel to future groups.
Activities & Excursions
Amsterdam – Anne Frank House and Canal Cruise

Pre-booking this visit is essential to avoid the queues that can go on for several hours. This activity is a must for anyone visiting Amsterdam and is set out with a huge number of artefacts and easily digestible snippets of information. Despite arriving late due to traffic, the museum staff were very helpful in getting us straight into the museum.

We did this visit in two separate groups in partnership with a canal cruise. The canal cruise is an easy and relaxing way to see the sights of Amsterdam and is well worth the time and money. Future trip leaders should be aware that the canal cruise jetty and Anne Frank museum are about a 25 minute walk apart and the coach park is a further 25 minute walk away with access to the centre of Amsterdam difficult for coaches. It is therefore important to leave plenty of travelling time in order to go between these activities.

Zaandam – Zaanse Schans

This is a remarkably large and impressive set-up where traditional Dutch skills, cuisine, and lifestyles are demonstrated free of charge. We spent two hours here and could have spent a great deal longer. There are traditional windmills to visit, a clog shop and museum featuring a free practical demonstration, plus a traditional Dutch cheese-making area.

It felt as though anything traditionally Dutch can be found here! If your group is looking to stay for a longer period there is also an option to cross the river and visit attractions on the other side as well. This was a great suggestion for a visit by our Travelbound tour assistant when planning our itinerary and I would certainly try and include this visit in your music tour if possible.

Kaatsheuvel – Efteling Theme Park

When planning my tours, I have always made the last full day of the tour a trip to a theme park to allow the students to unwind after the performances. Efteling is a huge fantasy theme park where one could easily spend a couple of days and still not get on all the rides they want. Again pre-booking is a must with this excursion and gains you swift access to the theme park ahead of the queues.

There are many different types of rides which cater for everyone from those who are adrenaline-junkies to those who are slightly more squeamish about anything more than a gentle train ride around the park. One highlight you cannot afford to skip is the theme park's hot doughnuts. There are many hot doughnut stands which can be found at satisfyingly regular intervals around the park. I would recommend a full day at this activity to allow the pupils to fully appreciate the magical fantasy land.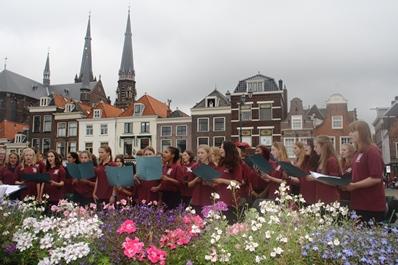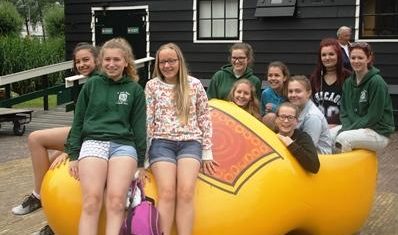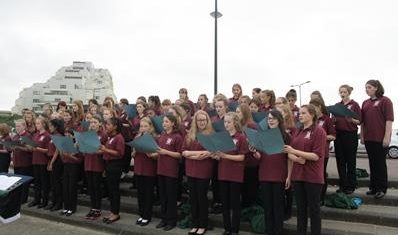 Concert Venues
We opted to perform two concerts on our Noordwijk trip with both locations being outside venues. When arranging outside concert venues it is worth noting that it is not usually possible to arrange an indoor alternative at the same time. However, with strategically chosen outdoor locations near to natural footfall of both locals and tourists you can confidently expect a larger audience to what you may see for an indoor concert.
Delft Market Square

This was a great venue to perform in terms of attracting audiences through natural footfall through the area. There are also a lot of outside restaurant areas where the diners enjoy listening to music whilst eating and drinking.

The on-site organiser was very supportive and accommodating as we had to postpone the concert by 45 minutes due to the weather, but we managed to light up the stage during the intermittent poor weather and perform to a good sized audience. The local shops were very helpful in allowing us to store our instruments inside during the downpours as coaches are not allowed to stay on the square. This was a great choice for our first concert venue set amongst picturesque surroundings with good local support.

Gat Van Palace Square, Noordwijk

Travelbound and the Noordiwjk district officials were very efficient in helping to re-arrange our planned concert in the town. Located near one of the main access points to the beach and local parade of shops, the town's square also provided us with a good sized audience. The steps created a natural stage for our choir and we were well supported by the locals and other tourists during this concert.
Big ideas for the future
Piecing together a great combination of concert venues and activities across the Netherlands Midwest, our music tour to Noordwijk was a real success enjoyed by all. This was again highlighted to me by the swell of interest from the students upon their return to school with an endless list of possible destinations for our next tour.
Opening the tour up to more students we will again be venturing onto the Continent in 2016 for a trip to the Rhineland, Germany, where 68 students and 7 staff are already looking forward to spending 5 days exploring the castles and performing in the spa towns along the River Rhine. Having every confidence in Travelbound to once again provide us with a successful itinerary, we are counting down the days to our departure.
---