A number of years ago Lyndsay found herself thrust back into teaching music having not done so for nigh on twenty years. She was fortunate to be in a school which operated a Band Scheme and the Head of Music had this mad idea to take the school band on a music tour…
Creating opportunities for students
To take students away is a joy, a challenge and at the same time extremely rewarding. Students really do discover that music is a universal language. We may not be able to speak French, German, Spanish or Italian to any great degree, but music can always communicate despite these barriers.
On all our tours we have had students of varying ages. The youngest on our last tour was 11 and the eldest was a returning student of 19. That is what is so pleasurable in taking students away; seeing how they all mix together regardless of age differences and knowing they are there for each other and to have fun.
Our tours have included four to Holland (Valkenburg 3 times, Noordwjik), and others to Germany (Kelheim), France (Chamonix), Italy (Lake Garda) and Spain (Barcelona). Using a reputable travel company is essential. We have always had a music tour rep and to have someone who can speak the language, sort out any issues at venues and to be part of the team is great. Coach drivers can make or break a tour and we have been lucky 99.9% of the time! We even had one driver return home and take up the drums!
"We always aimed to have fun, play well and embrace other cultures"
Our programme and itineraries have always had plenty to do. We always aimed to have fun, play well and embrace other cultures. We have played in bandstands, in theme parks, in grounds of hotels and by wonderful lakes. We have played in the evenings in town squares, been given impromptu receptions by locals and, on one occasion in the hostel we were staying in, gave an off the cuff performance for the benefit of the staff who wanted to hear us.
Being on a music tour for students is often the highlight of their time at school. We've often had students undertaking three tours and they always thought their last one was the 'best ever'.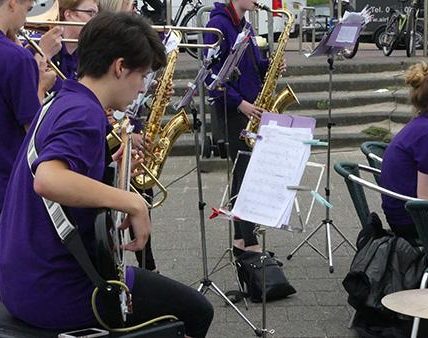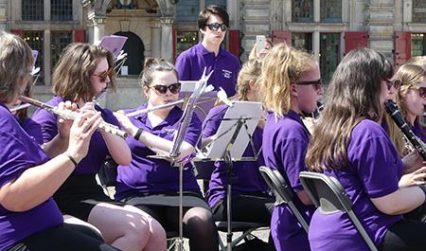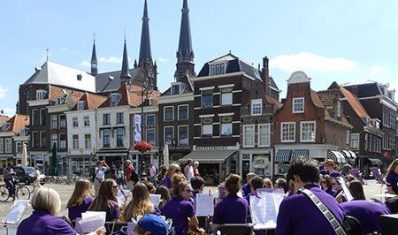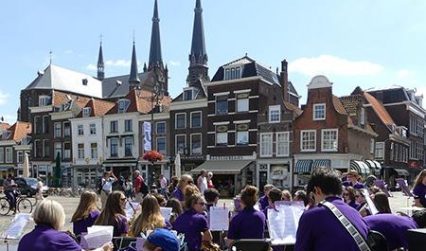 On the road to Noordwjik
Our recent music tour to Noordwijk was the last of many I'd organised and the best way to venture into retirement. We took students of varying ages from 11 – 19 and the dynamics of the group were wonderful. The youngest – a clarinetist – was a little reticent at the start as she was the only Year 7 student. By the end, she was the star of the group and had friends from all the other year groups.
"The youngest – a clarinetist – was a little reticent at the start as she was the only Year 7 student. By the end, she was the star of the group and had friends from all the other year groups!"
We departed late at night and missed the 03.20am ferry. Not the coach driver's fault, just a set of circumstances as his sat nav didn't get him to the school on time. However, we were not worried. We met our new driver at Dover and he, the staff and the students knew straight away this was going to be a wonderful trip. His easy manner with the students, the fact that nothing was too much trouble all went a long way to making this tour such a success.
We struggled to find a service station on the motorway in Holland, but stumbled across a very welcomed sports centre and Burger King in a local town much to the student's delight. We arrived in Noordwjik and the hotel staff were extremely helpful. Rooms were fine and the first evening was spent having a wander along the beach. Our rep had turned up and helped sort out the arrangements for food and packed lunches so everyone was clear of the procedures.
Culture and concerts in Holland
The first day was spent in Amsterdam. We had pre-booked tickets for the Anne Frank House and I would recommend this visit. The students were mesmerised and took plenty of time in each room. Afterwards, our rep walked us through some of streets and students had some 'free time' to do some shopping. In the afternoon we had a canal boat tour. A good photo opportunity for all.
On our return to the hotel we had our evening meal and then changed and played in Noordwjik. The weather was a little chilly, but the audience were receptive and it was a good opportunity for the students to work well as a team getting everything set up. It was here that the students realised the importance of pegs for their music to stay on their stands. Not too many pages went missing!


View music tours to Noordwijk
Day two of our music tour was a visit to Delft. A lovely town, helped even more so with bright weather. We played in the huge square and afterwards students had time to wander and sample some Dutch ice creams! Some of us ventured up the huge bell tower, whilst others bought their souvenirs.
The evening was spent playing rounders on the beach and sharing birthday cake for a member of staff and a student. We always make our Sixth Form students responsible for organising 'games' and coach entertainment and this year they surpassed themselves.
Day three was a visit to Die Efteling Theme Park where we were able to play in their bandstand. We managed to negotiate playing two sets straight after each other, which then gave students plenty of time to enjoy their rides. Evening games and a quiz rounded off the music tour.
Reflecting on the music tour experience
Our return journey was uneventful bar plenty of singing on the coach, the final rounds of our quiz and an emotional farewell to our driver at Dover. Our feeder driver got us back to school on time and students were whisked away by their parents. We received a number of thank you emails from parents saying their children didn't stop talking about the tour all night. An enjoyable time for one and all.
"It was a pleasure to take these young people on another tour and for some their first. I shall miss the fun and hard work of these tours, but taking students away has always been the highlight of my teaching career"
---
About the author | Lindsey Sloman
Lindsey found her passion in developing the experiences for students through music. Leading multiple music tours across Europe, Lindsey has helped students developing their confidence and skills in performing in concert. With over 20 years of experience working with students, Lindsey has found the music tour and the benefits of leading students abroad to widen their experiences stands out as a highlight of her teaching career.
---