It is a well-known fact that a music tour can bring countless benefits to your students. It is an opportunity for your group to come together for performances in front of new audiences abroad, to take the stage at outstanding indoor and outdoor venues, plus develop your students' soft skills which become increasingly important on their journey as learners. We take a look at the importance of booking with a tour operator in being able to successfully reap the benefits of your group music tour abroad.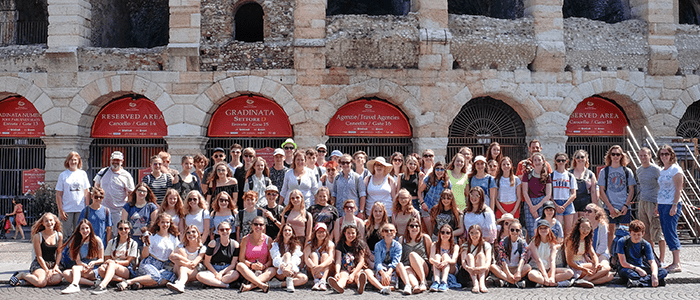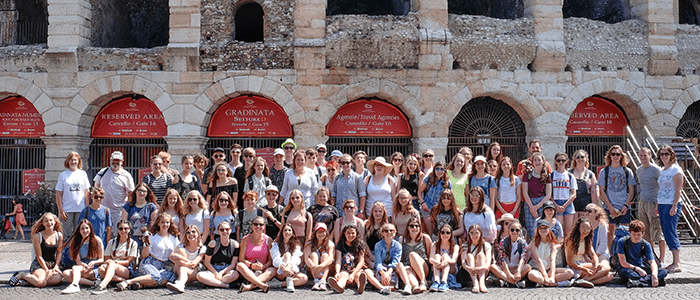 The excitement of a music tour abroad will attract new students to your music department/music ensemble, help focus everyone's energy during rehearsals and improve attendance. It is an opportunity to improve the cohesion of your ensemble and expose your students to new performance experiences and audiences. There is also the chance to provide students with the most memorable and valuable experiences in their school life and influence their personal development and maturity. Ultimately, there is a hope the music tour abroad will also inspire them to a lifelong love of music.
However, music teachers are often reluctant to arrange a music tour abroad because they feel it will take too much of their time and their energy. There is a view that the prospect of organising a tour by themselves is just too daunting. Think of all those risk assessments! How will you find the right accommodation? How can you source the right concert venues in a foreign country if you do not have personal contacts there? What if something goes wrong?
It's important to remember, you don't have to do it all by yourself! Although arranging a tour will undoubtedly take some of your time, using the services of a specialist travel company like Travelbound can help make the process stress-free and enjoyable.
How can a music tour operator help you?
It all starts with a phone call or an email where the music tour operator will discuss your plans and advise you of the best possible destinations and venues for your specific requirements. Travelbound have a small, friendly and approachable music tours team within the company who pride themselves on providing a truly personal service.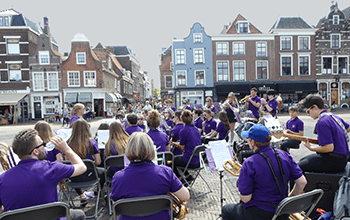 You will receive a tailor-made quote which is designed around your group's requirements and expectations. As everything is tailored to your needs, there are no set dates for Travelbound music tours and no set package prices. It is advisable to contact more than one travel company to get the best ideas and the best prices.
With most groups planning their music tour abroad several months in advance, you will build up a close relationship with the travel company you choose so it is important you feel confident of their offering and at ease with them.
Remember that when using a travel company, you will be able to benefit from specially negotiated prices which are often not available to individual groups thus making the most of your tour budget.
With you every step of the way
Safety is a vital factor when deciding to take a group of young people on tour. When choosing a tour operator, look for companies which are full members of the School Travel Forum and have been awarded full accreditation for the Learning Outside the Classroom Quality Badge scheme. This is in recognition of their commitment on risk assessments and focus on safety. You can relax in the knowledge that Travelbound has both accreditations. Travelbound also offer 24-hour-support whilst you are on tour so if for any reason things don't go according to plan, there is a team on hand to help.
When using a travel company, you will be able to draw upon their knowledge and expertise to make the most of your touring experience: as a company, Travelbound have over 30 years of experience in operating student tours and have sent over 250,000 students on inspirational tours to the 4 corners of the globe.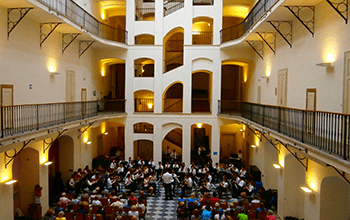 We can advise you on accommodation, venues, local excursions and fun activities based on what has worked for other groups similar to yours: no need to trawl the internet for hours, just ask us!
You will want to know that your money is safe. Look out for companies like Travelbound who provide full financial protection through their ABTA and ATOL bonding.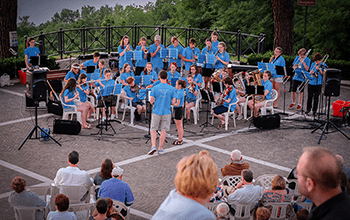 Whilst no one can guarantee an audience for all your concerts come rain or shine, a company like Travelbound will be able to draw upon a network of venues built over the years and will advertise your performance locally to ensure the best possible audience numbers are achieved. 
Look out for tour operators who will produce posters and/or flyers for each concert and make sure that your performance is listed in the local 'what's on' guides. Travelbound are also able to arrange joint concerts with a local ensemble, issue letters of invitations to local choirs and orchestras or link your performance with a local fundraiser or charity event to ensure maximum visibility.
To find out more about how Travelbound can help take some of the pressure off organising a music tour, get in touch with the Travelbound Music Team on 01273 265 290 or contact us here.