Art School Trip To Normandy
The Impressionist painters were drawn to Normandy by the quality of its light. Your young art students will be able to study this light and use it in their future work.
Highlights
01
Monet's immortalised gardens at Giverny (seasonal)
02
The modern MuMa gallery in Le Havre
03
Beautiful historic port of Honfleur
04
Belle époque seaside resorts Deauville & Trouville
Price
Typically
£193
Price per student
Based on a 3 night tour for 35 students, travelling March 2019
Schools - Normandy - Generic
Very helpful Tour Co-ordinator. Nothing was too much trouble when organising the tour which was essential for me to get it off the ground.
Archbishop Holgate's School
Suggested itinerary
Depart school in your coach
Channel Crossing to Calais
Stop in Le Havre to visit the Impressionist collection at the MuMa Gallery. Arrive at the Château du Molay
Evening meal and château entertainment
Breakfast and packed lunch
Visit Monet's Gardens at Giverny (seasonal opening) and the Impressionist Museum
Rouen Cathedral and Musée des Beaux Arts
Evening meal. Optional Frogs Legs and Snails. Château entertainment
Breakfast and packed lunch
Visit the seaside resorts of Deauville and Trouville
Afternoon in Caen to visit the Musée des Beaux Arts
Evening meal and farewell disco
Breakfast and packed lunch
Return to the Calais with a stop at Honfleur
Channel crossing
Arrive at home
What's included*
All travel by British touring coach
Château evening entertainment programme
1 teacher place for every 8 students
Typical accommodation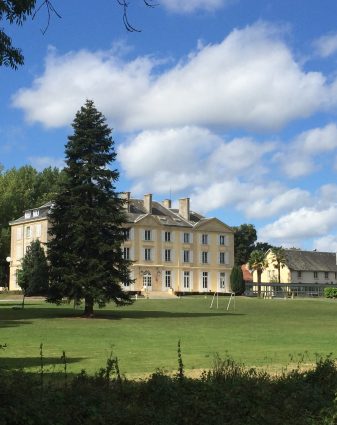 Château du Molay, Normandy
See on map
Our exclusive 18th century Château du Molay can accommodate 195 guests in 42 en-suite bedrooms and is set amongst 38 acres of beautiful private parkland.
Located only 14kms from Bayeux, within easy reach of the world famous Calvados coast and just a 45 minute journey from Caen, the Château is in an ideal location for easy school trips from the UK.
Learning outcomes
Subject focus
Students can:
See a range of art in important art museums
See the towns, cities and landscapes that provided the context for so much inspirational artwork
Understand the development and growth of the Impressionist movement
Find inspiration for their own work
Explore and evaluate how issues such as presentation were addressed in some famous works
Student outcomes
Students will have had an opportunity to:
View a wide range of inspiring works and the locations which inspired them
Develop an understanding of the inspirations and techniques behind Impressionist work and assess the critical reaction of the time
Encounter a range of influences to inform their own work
Will have the opportunity to sketch or paint in some of the landscapes that have inspired world-renowned artists