Modern Foreign Languages School Trip To Normandy
School groups have fun, practice French and soak up the culture of Normandy on a stay at Travelbound's own château.
Visit a local market and watch students buy their lunch en français!
Our team of experts can help with any language you are interested in teaching, including German, Spanish and Mandarin.
Highlights
01
An interactive assignment at a French market
02
Meet the goats at a traditional cheese farm
03
Baking bread at a boulangerie
04
Chateau Lumière MFL Trail
Price
Typically
£193
Price per student
Based on a 3 night tour for 35 students, travelling March 2019
Schools - Normandy - Generic
Very helpful Tour Co-ordinator. Nothing was too much trouble when organising the tour which was essential for me to get it off the ground.
Archbishop Holgate's School
Suggested itinerary
Depart school in your coach
Channel crossing to Calais - journey time from Calais about 5 hours without excursion stop
Optional short stop in Honfleur en route to the Château du Molay
Château entertainment and evening meal
Breakfast and packed lunch
Market Assignment, prepare a cold lunch with your market ingredients back at the château
Visit Bayeux and the Bayeux Tapestry, complete the Bayeux town trail walk
Château entertainment and evening meal included, with frogs' legs and snails
Breakfast and packed lunch
Visit a working goats' cheese farm and a sweet factory
Afternoon at Cité de la Mer, Cherbourg, with work material or learn how to bake bread at a traditional boulangerie
Evening meal with optional crepes and cider, and or apple juice, plus farewell disco
Breakfast and packed lunch
Return to Calais with a stop at a French hypermarket or chocolate maker
Channel crossing - arrive home
What's included*
Travel by British touring coach
Château evening entertainment
1 teacher place for every 8 students
*Please note, entrance fees where applicable are not included in typical price – contact us for more details
The Normandy Lumière Quest for groups travelling in 2019
Typical accommodation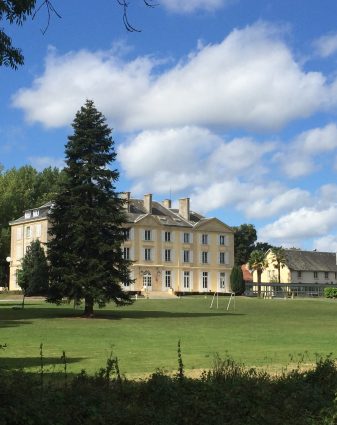 Château du Molay, Normandy
See on map
Our exclusive 18th century Château du Molay can accommodate 195 guests in 42 en-suite bedrooms and is set amongst 38 acres of beautiful private parkland.
Located only 14kms from Bayeux, within easy reach of the world famous Calvados coast and just a 45 minute journey from Caen, the Château is in an ideal location for easy school trips from the UK.
Learning outcomes
Subject focus
Students can:
Learn and practice listening and responding
Learn how to follow instructions
Learn how to read for information
Practice to gain fluency and conversation skills
Practice through structured role play
Develop their interest and enthusiasm for the country and its language
Student outcomes
Students will have had an opportunity to:
Understand the value of learning another language
Test and challenge their own abilities
Discover more about the French people and culture
Gain practical skills that can be transferred to the classroom