The school trip is an opportunity for students to develop a lot more than just their subject knowledge. Students develop a series of soft skills that are becoming increasingly important as well as interpersonal skills that support the learner's overall development. We take a look at the Château du Molay and the impact the learning environment plays in not only supporting teachers with additional learning opportunities but the student on their school trip abroad.
Where is the Château du Molay?
In a region bursting with French market towns, history that dates back to William the Conqueror and local producers who have been around for generations, you'll want to place your school in a location that allows you to tick all your boxes. Maximising your time outside the classroom, the Château du Molay's location just 14kms from Bayeux allows you to benefit from all the region has to offer while offering a lot on its own. At Travelbound, we're keen to ensure your school group can maximise their time outside the classroom and understand the importance of presenting students with safe, secure learning environments. Through the Château du Molay and dedicated on-site team, this is made all the more possible.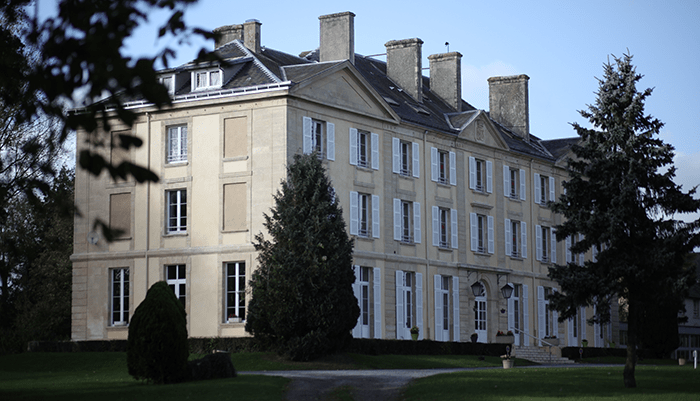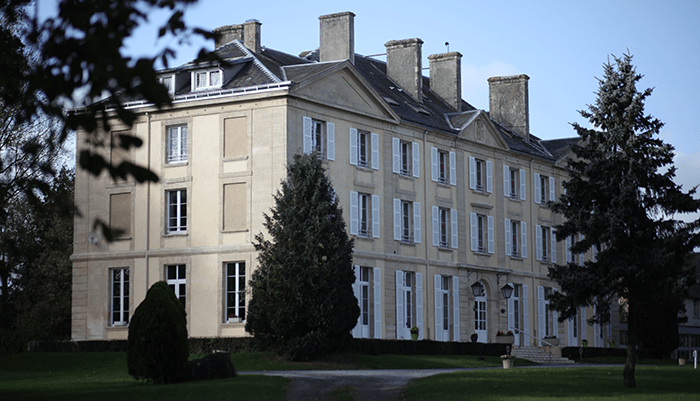 The location of the Château du Molay allows for groups to take in the breadth of Normandy with standout excursions stretching from Honfleur to Mont St Michel. Days out from the Château du Molay mean Party Leaders don't need to worry about driver's hours or cutting stops short along the way. The Travelbound team can create an itinerary around your subject and students' needs that allow you and your support staff to focus on getting the most from your time in Normandy.
Build an itinerary around the Second World War with visits to Omaha Beach, Arromanches and the British Military Cemetery or intersperse your visits to market towns to improve French language comprehension with stops at local producers, including the hugely popular Chocolateries Les Marianik's and Goats Cheese Farm. With a range of possibilities within easy drives from the Château du Molay, their will be less calls of "are we there yet?" and more of "what do we get to do next?".
"An amazing experience, with lovely staff. We had brilliant activities that were well thought out and organised."
St. Thomas A Becket Catholic
What does the Château du Molay offer my school group?
The Château du Molay may have a history spanning over 250 years but with recent updates to facilities schools staying in Normandy schools can be sure to enjoy comfortable accommodation and a secure location.
For some students, a school trip to Normandy may be the first time they are away from their family and loved ones. This reiterates the importance of providing your students with an environment they feel comfortable in and allows them to come out of their shells as they build a range of soft skills. As a Party Leader, you will be recognising multiple noteworthy moments where students breakaway from behaviours seen in school or interact with peers they have never uttered a word to before. To help maximise these moments through on-site recreational activities, the Château du Molay offers students a comprehensive programme.
Enjoy a range of team building activities on the grounds of the Château du Molay with access to a survival area, blind trail and archery range. Capitalise on a choice of outbound activities that adds a new dynamic to the school trip and helps students develop communication, teamwork and organisational skills. The outdoor heated swimming pool is available at times throughout the season and, with an all-weather court and football pitch also available, your school group can also enjoy a range of sports.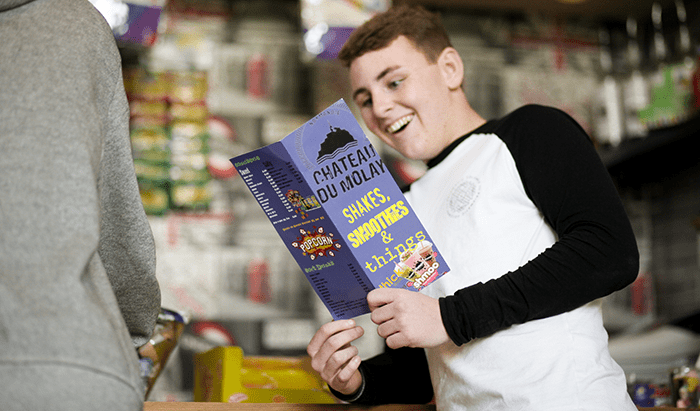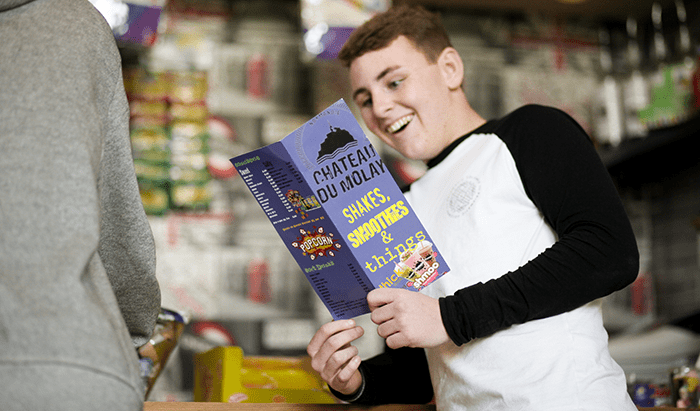 While some students may seem glued to their phones, the allure of a retro games room and cinema room offers a new dynamic to their downtime while the pool table remains a firm favourite. These options sit in addition to the organised programme of activities on offer for groups and the lounge areas located around the tuck shop where students can grab a milkshake and snack.
New and updated classrooms in the Château du Molay's main building allow for Party Leaders to capitalise on the learning of the day and extend the work completed back at school. With projector equipment also available, there are opportunities to set your group up for the next day with background history to excursions or even opportunities to set language challenges for your students.
"Good communication and well organised trip to the Château du Molay. Good, clear documentation walkthrough prior to departure."
Hautlieu School
What evening activities can you offer my school group?
When you're booking your school trip abroad, you're typically going to be looking at city destinations and expecting hotel accommodation. A large part of your day will be spent out and about soaking in the culture, sights and atmosphere, especially with the opportunity to take on the Quest challenge designed specifically for Travelbound's school groups visiting Normandy. However, when dinner comes around and there are some hours to kill before lights out you may – as Party Leader – be seeking an evening activity that suits your students.
This is where the Château du Molay on-site team can support you further with instructor-led activities. From quizzes, games, and crêpe evenings to tasting frogs' legs and snails, the animated team of Château du Molay staff are on-hand to make the experience as memorable as possible for students and Party Leaders alike. Inclusion is high on the team's agenda with opportunities for students with special needs to access activities and be a part of the group experience.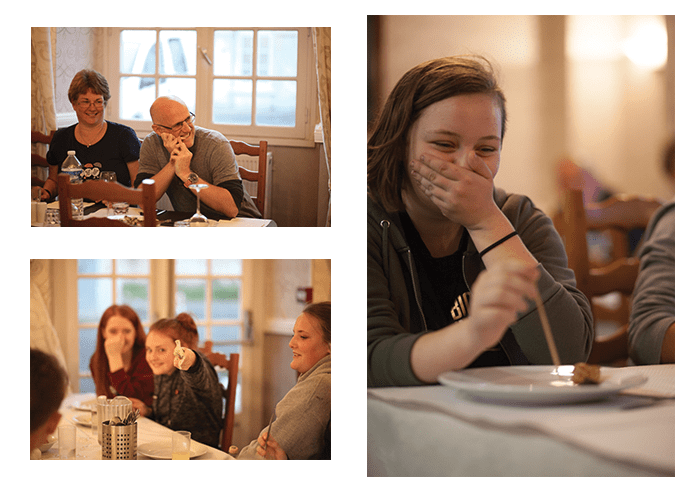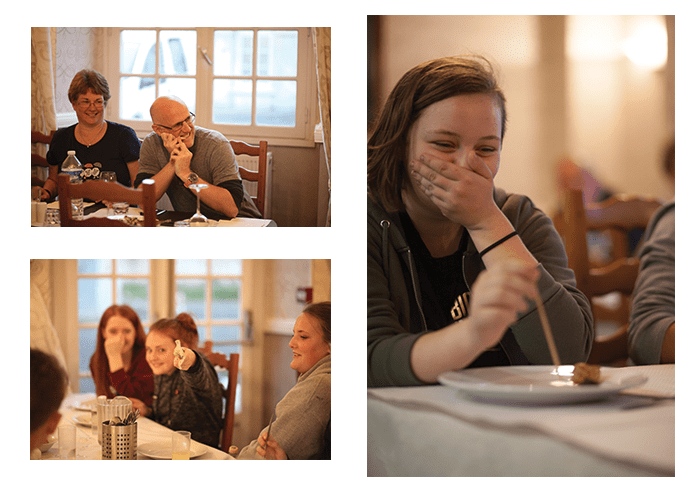 Having the added benefit of the Château du Molay team means Party Leaders can take a back seat and observe their students interact. It serves as a great opportunity to identify students' needs, how they handle situations and challenges, while also reflecting as a team on the day and the agenda.

Tying together location, facilities, on-site activities and support, the Château du Molay serves as the ideal base for your school group to explore Normandy. Providing more than a place to rest after a day on the go, the addition of the Château du Molay on-site team to support you and your students during your time in Normandy allows your group to not only maximise time outside the classroom but extend learning and experiences to enhance the school experience.

To find out more about school trips to our Château du Molay in Normandy, or to start planning your next educational experience, speak to the Travelbound team on 01273 244 572 or contact us online.