Whether you have organised multiple school trips or looking to plan your first for your school you will want to find out all you can about the area, who you are booking with and what to expect. Hearing from Party Leaders who have previously led a trip to your chosen destination and continue to run the trip for their school are valuable opportunities to help you in knowing what to consider and the value of the experience you are offering your students.
We caught up with John Ford from Silverdale School to hear about his experience in booking his school's trip to Normandy and the value the region has in supporting the students' learning.
What do you look for in a school trip?
I need good contact with the person in charge at Travelbound, which means getting in contact with me early. I like lots of forward planning and heads up about what might be needed and when. I'm always on the lookout for discounts are good and, having built a good relationship with Travelbound, goodwill and a degree of leeway if we happen to miss payment deadlines so we don't lose the discounts. A reminder email for important dates, e.g. payments, is always useful for teachers juggling things at school.
As we travel by coach, the school needs a good quality coach, which is clean and well stocked with things like drinks, bin bags for each row, a microphone that works, and a nice driver. Having a driver who communicates well and uses their initiative when abroad is always a huge benefit and can contribute to some fun memories along the way.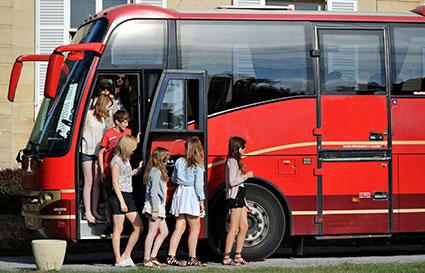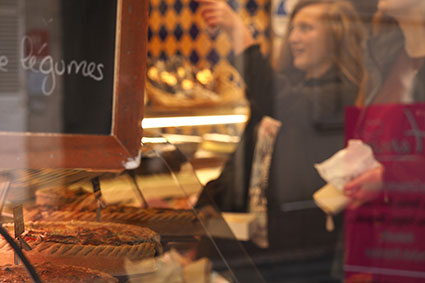 Staying at Travelbound's Château du Molay means we benefit from staff at the accommodation who are organised, get involved in checking your itinerary to make sure it minimises the travelling each day, and provide advice on itinerary visits. We like it if the staff speak as much French as possible with the teachers (Party Leaders) and pupils. 
I like to see the Château du Molay staff who speak French highlight how learning a foreign language has benefitted them in their careers and in life outside of work. In a multicultural world, it is increasingly important to convince children that languages can open doors in the future. Even if the staff aren't skilled in speaking the foreign language, they should be trained up to be able to use the basics necessary for managing school groups, e.g. the appropriate language used when leading activities with the children, plus assisting in the restaurant and around the accommodation.
Food is also an important area to consider. The Château du Molay offers good food in their on-site restaurant, especially for pupils who may be away from home for the first time. As students get the same food as the teachers, the children realise they are getting a good deal and not being overlooked. The same goes for providing good packed lunches with nice treats like mini cakes etc.
How does a school trip to Normandy benefit your students?
There are some obvious benefits to running a school trip to Normandy with students having the opportunity to speak French with teachers, members of the public, their peers, and staff at the Château du Molay. Together, this leads to increased confidence in the students approach to learn French and actually apply their learning in unscripted situations.
The pupils have the chance to be independent when on a school trip to Normandy and have some freedom from parents. Through both the on-site activities and off-site visits, they can develop their social skills and teamwork.
In addition to meeting new people, the pupils can appreciate the French culture and see that different ways of doing things are equally valid.
It remains important our pupils learn about the history of World War Two and appreciate the meaning of war and its impact.
What did the Château du Molay offer your group as a base for your trip?
The Château du Molay provides the perfect location and secure grounds. 30 mins from the coast, it is easy access to all the parts of the coast we want to visit. Being close to Caen is also useful when taking the Portsmouth to Caen ferry route. There is also value in being surrounded by lovely countryside too. The list of activities offered by the Château du Molay, both in-house and the ideas for around the region, is extensive. The advice and expertise given about the possible visits is also excellent.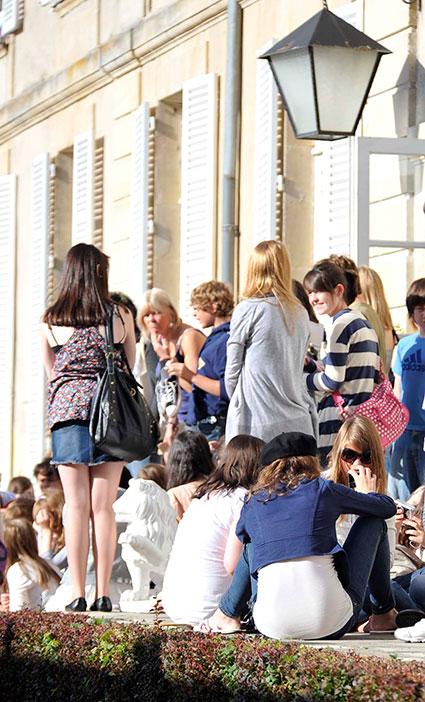 How do you decide on excursions suitable for your students and their learning?
I look for visits that aren't too far away, which for me is maximum of a 40-minute coach journey. As the Château du Molay is in close proximity to many attractions, I look for something different to the students' experiences in England. This can include a cider farm, goats' cheese, World War Two-related landmarks, frogs' legs and snail tasting evening. No 'sit down and listen' talks will ever last more than 15 mins, unless they are interactive.
What makes you choose Travelbound for your school trip year after year?
I have found Travelbound to be a very experienced company. The Château du Molay are organised with nice staff, engaging evening activities, great location and food.
What do you consider as important in getting the trip signed off?
It's important I complete my risk assessments for all activities on our itinerary. I also look for a relief driver to break the hours of the journey and means we can remain safe and calm driving at night to the Château du Molay.
How do you run a language trip to the Château du Molay and encourage the children to speak French?
All pupils get a workbook containing:
6 street interview questionnaires for their free time shopping at the markets etc;
a few pages of French activities like vocabulary building, general knowledge about the region;
a day-to-page diary section to write in the past tense about their day;
a page of vocab for the postcard writing task (we buy the postcards and stamps);
a list of questions to ask others in the group, e.g. in a speed-dating format for the beach, chateau grounds or anywhere to maximise interactions and fill any dead time;
an activity on 'find someone who' to get them mingling and getting to know each other;
vocab support for each day's verbal and written tasks.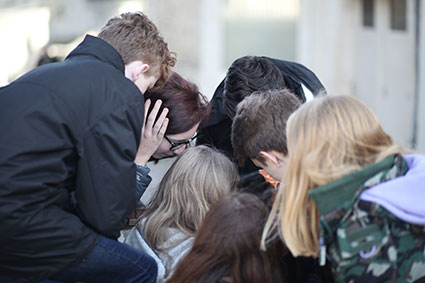 We take a French song DVD with catchy songs (some with actions) to play on the coach, which always proves to be very popular.
We include a diary writing session/workbook session in the evenings for around 30 minutes. This allows the pupils to practice the past tense and do some speaking activities.
It is important to provide the pupils with pre-activity briefings for all visits to explain what we expect and to give them the language to speak French, e.g. when buying things at the market. This is good to re-emphasise expectations and ensure the pupils can maximise their time.
Throughout the trip I am mindful to keep abreast of how pupils are getting on with their workbooks. Prizes will be up for grabs and I take note of those who are making an effort to speak French. The prizes may include chocolate and French bits and bobs from the various visits out. There are some great World War Two souvenirs you can pick up for 1 euro each which always go down well with the pupils.
I would recommend picking up some French reading magazines for pupils to explore on the coach. This encourages the group to pick out vocabulary they may recognise and attempt to translate either independently or with their peers.
I like to encourage the pupils to try some one-to-one chat in French with the Party Leaders on the trip. This is a good option to pass the time on the coach and they can use questions from the workbook.
What do the students think of their school trip to Normandy?
"Great chateau, love the activities."
"Lots of chances to have a go at speaking French to boost my confidence."
 "Activities at the chateau were fun, never bored."
"Coach trips were made fun with songs and quizzes."
To find out more about school trips to the Château du Molay in Normandy or to start planning your next school trip, speak to the Travelbound team on 01273 244 572 or contact us online.